Characteristic of selected markets
High-growth economies, where e-commerce is witnessing a hugely dynamic development, are often characterized by online shoppers' wide range of approaches to online payments. The section below presents some examples, illustrating the payment preferences of online buyers from different global locations.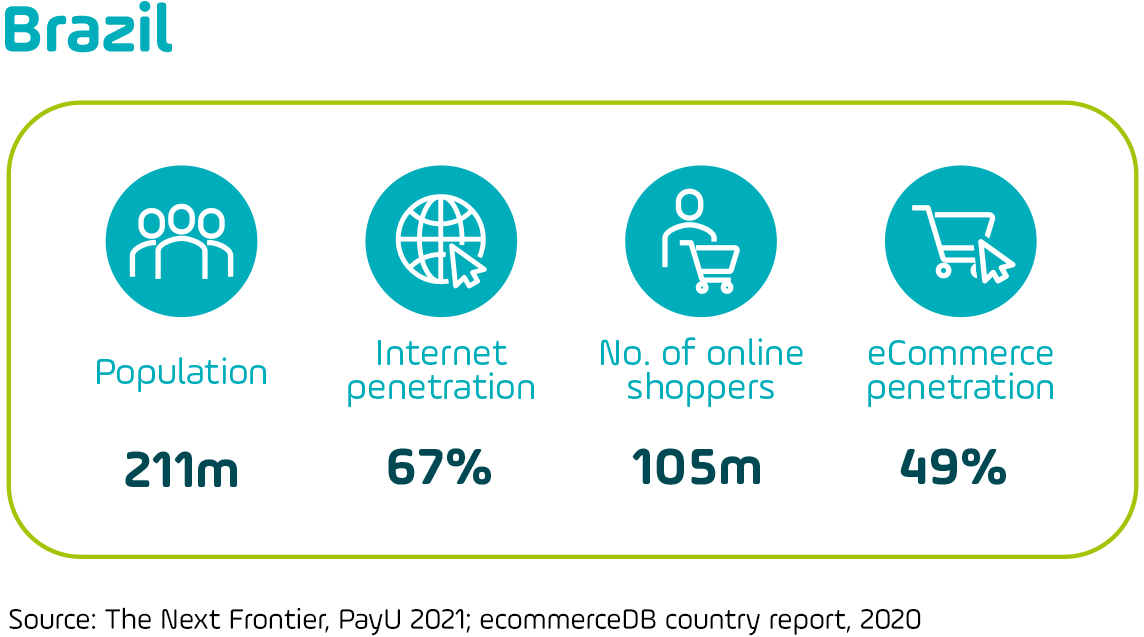 Brazil has the most developed e-commerce market in Latin America. Credit cards are the most popular form of payment for online purchases in Brazil. However, almost 80% of these payments are made by installments. About 10% of all online transactions are paid for with local Brazilian credit cards, such as Elo and Hipercard. In addition, more than 25% of all online transactions are finalized with alternative payment methods, including the popular cash payment Boleto.
The Boleto Bancario is a cash payment method regulated by the Brazilian Bank Federation. The boleto (ticket) can be purchased in millions of locations, such as ATMs, bank branches, lottery agencies, post offices, supermarkets and convenience stores. Boleto is an important payment option that can be offered to customers from Brazil, as it enables access to online purchases to the almost 30% of residents who do not have a bank account.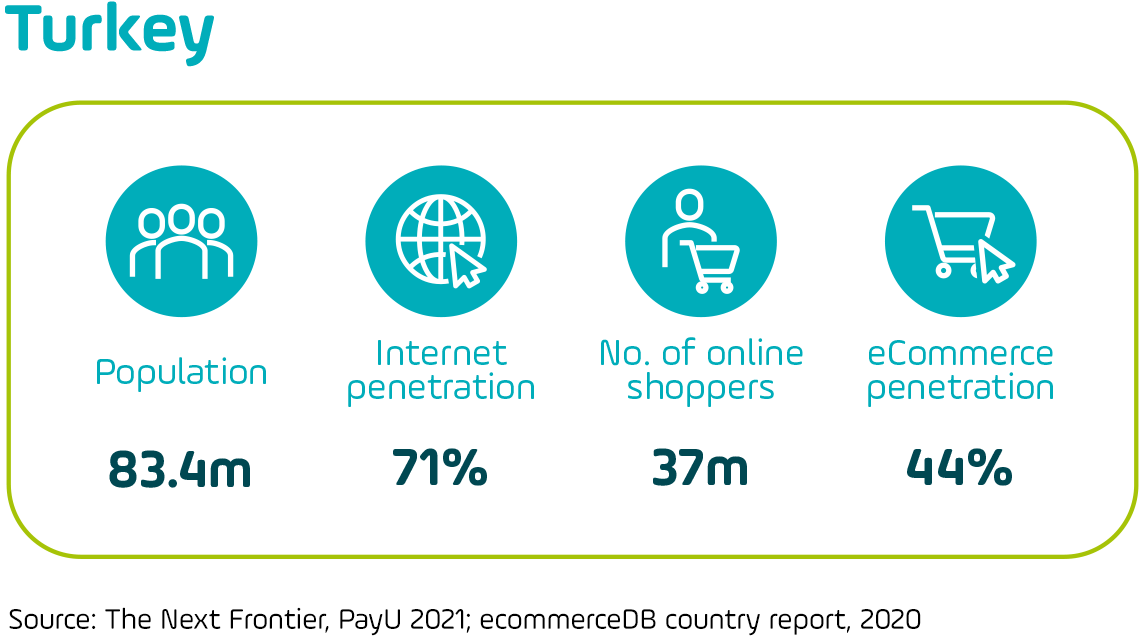 As the 17th biggest economy in the world, and the third fastest developing e-commerce market in Europe, Turkey offers excellent opportunities for cross-border investments for global merchants.
In Turkey, over 70% of card payments take place via installment programs, which enable the buyers to spread their expenses for everyday purchases into monthly installments. Loyalty cards with payment options are also hugely popular. Global merchants looking to expand into Turkey will need to include these methods to try and engage local consumers. This payment method is largely controlled by seven leading providers who hold 94% of the market. Payments by installments are offered only by local payment providers (e.g. PayU, iyzico) or by global platforms (such as PayU HUB) that aggregate local payment schemes.
Merchants must bear in mind that the entity processing their payments needs to observe the Turkish regulations on personal data storage, for example, according to these regulations, the data of local consumers must be stored in Turkey.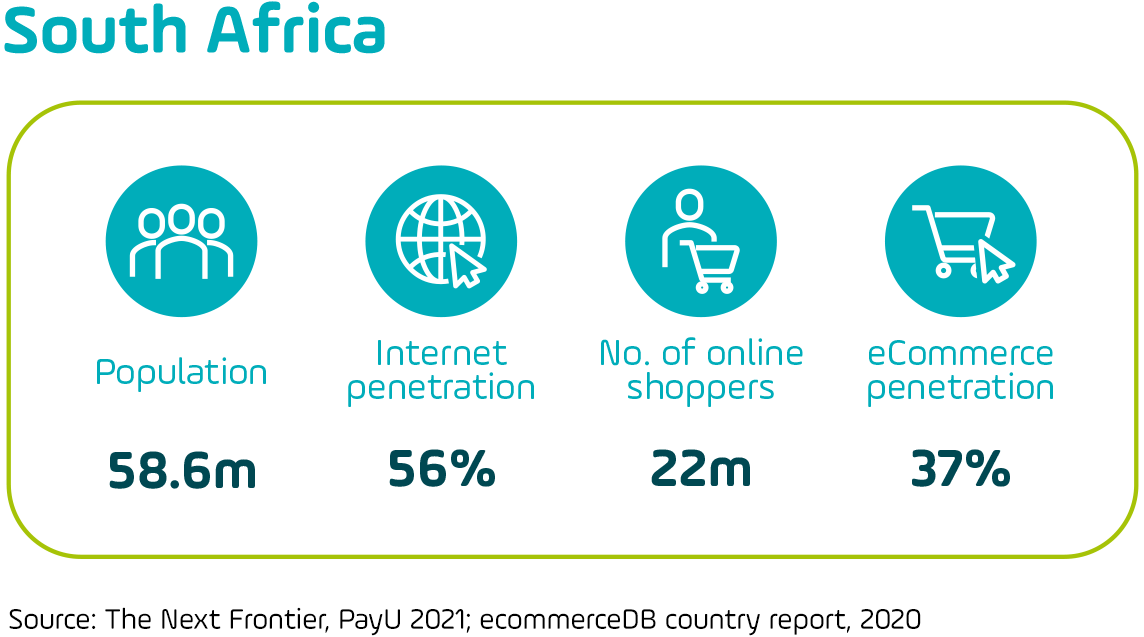 The Republic of South Africa is the most developed digital economy in Africa, and one of the fastest growing global economies. The country is witnessing the rapid move from cash payments to online payments, thanks to international payment methods and strong local players.
Credit and debit cards are currently the most popular online payment methods, however, the citizens of the Republic of South Africa are increasingly option for alternative payment options. The PayU HUB allows retailers to accept payments made by Visa and MasterCard cards, regardless of the location where they were issued. PayU also handles online transfers from all banks operating in the Republic of South Africa, which significantly increases the purchase opportunities for customers who do not have credit cards.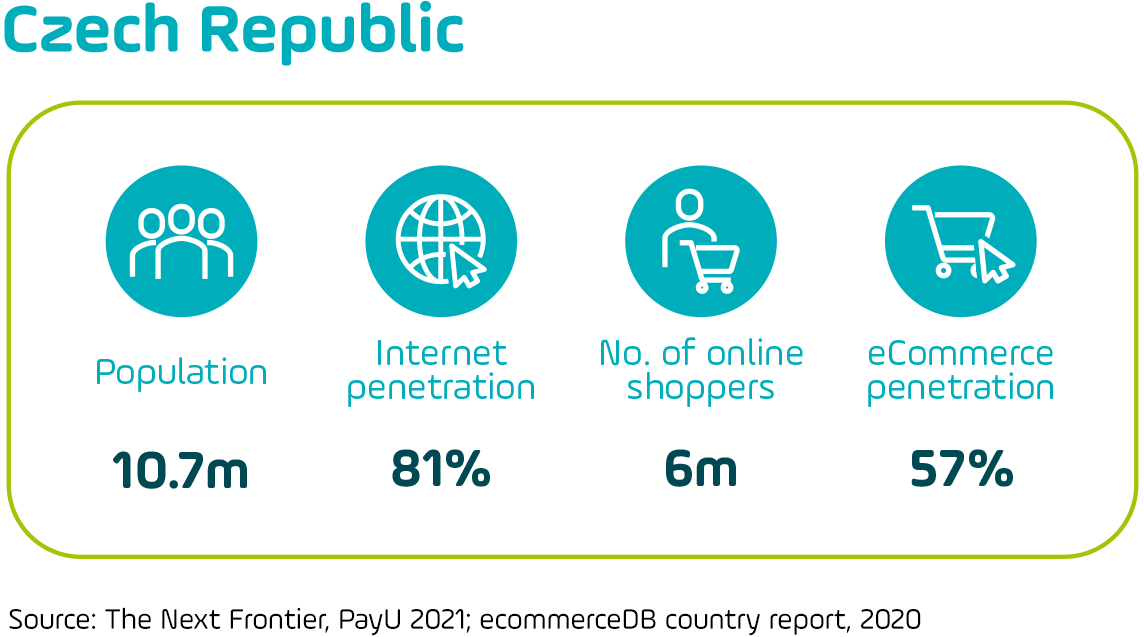 The Czech Republic is a fast-growing Central European economy, and its e-commerce turnover has reached 4 billion US dollars. Cross-border e-commerce is also growing rapidly here (by 39%), putting Czechia among the top three EU countries showing the largest growth potential in this area. The main growth factors of e-commerce include high internet penetration coupled with huge smartphone penetration. In light of this data, m-commerce is also developing rapidly.
For Czech online shoppers, the dominant payment method is still cash on delivery, despite the fact that more than 82% of the population have a bank account. Credit card payment is selected for 17% of online payments, however, forecasts suggest it will grow in the coming years and is set to become the preferred payment method. E-commerce entrepreneurs planning to enter the Czech market should offer their customers the option to pay for their purchases with fast bank transfers – pay-by-links – via all the local banks.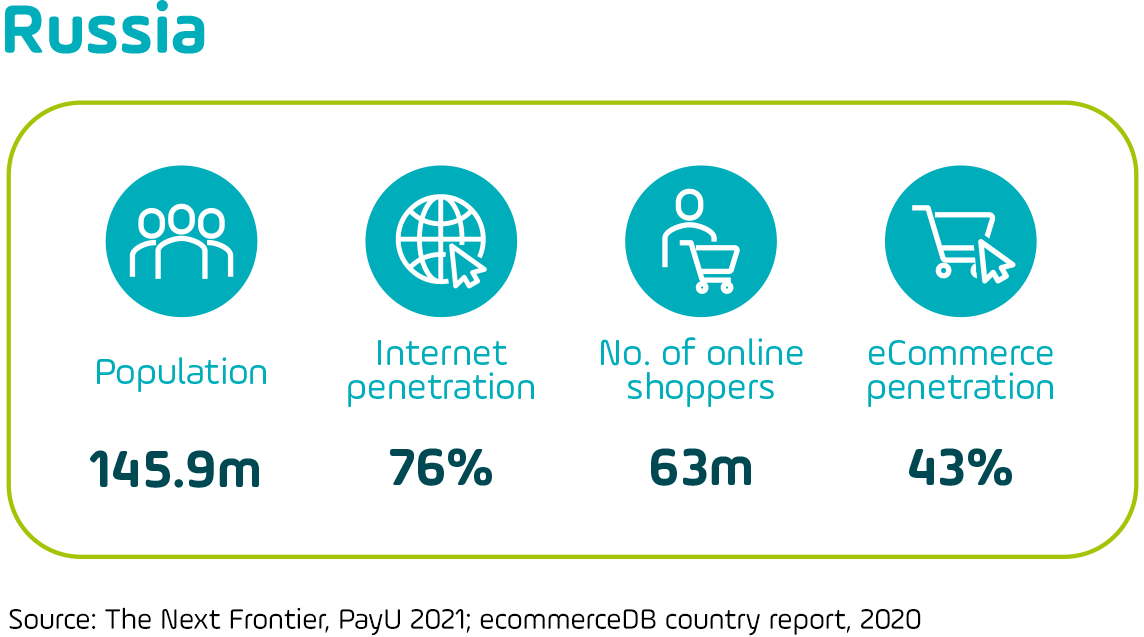 Russia is one of the best places for the development and rapid growth of e-commerce in Europe, as it is fueled by booming mobile and cross-border trade, and by consumers' positive attitude to digital shopping, in both rural and urban areas. Russia also has the largest population of internet users in Europe – as many as 110 million people, of which only 63 million shop online. This offers a huge opportunity for potential future growth.
A clear trend in Russia is consumers' increasing appetite for buying from foreign online stores –  – 37% of online transactions in Russia are cross-border transactions. International companies have an additional benefit with their exemption from taxes and customs duties on goods designated for personal use. In addition, global merchants are not obliged to open a local branch in order to operate in Russia.
Credit and debit cards are as popular in Russia as they are in across Central and Eastern Europe. Visa and MasterCard are present in the Russian market, alongside local cards issued by the Central Bank of Russia. E-wallets, available in the market for over 10 years, are also exceptionally popular, and have proven very useful in the growth of e-commerce. Domestic Russian operators, such as Yandex Money, Qiwi (in cooperation with Visa) and WebMoney offer their customers simple and convenient methods of online payments. When it comes to offering the best possible shopping experience to Russian customers, e-commerce entrepreneurs must offer the locally preferred online payment methods.